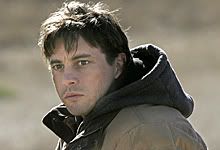 Skeet Ulrich
Jericho
What's it like to have your show brought back from the dead? Skeet Ulrich, star of the CBS drama
Jericho
, will tell TV Guide just that in next week's issue. But since we know you nutty
Jericho
fans can't get enough, here's some of what the actor, who plays bad boy turned local hero Jake Green, had to say about the resurrection. (For those who want to discover or catch up on the show about a small Kansas town struggling to survive after the nation has suffered a nuclear attack, CBS will air the pilot and the second half of the first season starting July 9 [
Editors Note
: July 6 is the correct date].)
TVGuide.com: After the show was canceled, when did you first get word of this groundswell from the fans?
Skeet Ulrich: I had heard pretty early on from my mom that there was a petition going around and there were like 40,000 signatures on it. They were just starting to send nuts (to CBS).
TVGuide.com: Which was inspired by the line in the season finale in which you say "nuts" to New Bern's demands that Jericho give up in the war for food.
Ulrich: Which to me is just bizarre because that line was the toughest one I had to deliver all season. It's such a non sequitur. To see it turn into this rallying cry of petitioning and fighting for the show is really interesting. It was insane following it and then for it to have an effect.
TVGuide.com: Were you reading any of the fan reaction online?
Ulrich: I was hearing most of it word of mouth, but I would check in periodically and see what was going on on the message boards. I saw the cast start thanking everybody and that's when I jumped in. I don't know how to describe it all. I find myself giggling alone in corners every once and a while.
TVGuide.com: Did you have to make a new deal to return to the show after CBS changed its mind about the cancellation?
Ulrich: The only thing we had to change about the deal that was in place was that typically on the second season you make a 13 [-episode] guarantee. So you get paid for 13 episodes regardless of what happens. We had to cut that to seven.
TVGuide.com: Why only seven episodes?
Ulrich: It's really about studio space and budget and the amount (CBS) is already putting forth toward its other shows. So we had to make some concessions and we were more than willing to do it. Our hope is to make these seven, [have them] do well and we make the next six for the season and then move forward and get a full Season 3. But I've learned not to get ahead of myself in this game…. I think we're going to be working under tighter circumstances than we were.
TVGuide.com: In terms of money?
Ulrich: In terms of money, and I had heard we might be working seven days [per episode]. We were struggling [to do a couple of last season's episodes] in eight days. But we'll make it work.
TVGuide.com: How did Gerald McRaney feel about his character, Johnston Green, getting killed off in the finale?
Ulrich: I think he was ready. My sense was he was frustrated through the season and wanted a little bit more out of it from the beginning. But he's really gracious and obviously incredibly talented, and so much fun to do scenes with. I was sad to see it happen because I loved working with him.
TVGuide.com: Anything you want to say to the fans who worked to bring the show back?
Ulrich: Eternal thanks. They've provided me with a lot of smiles and laughter. Even my kids are happy it's back, which I didn't quite expect. I was dreading telling them more than anybody, but they were actually very excited. I thank the fans for their efforts. It's their show now, it's the people's show. They asked for it, and they got it. Hopefully we'll make their efforts pay off.
SOURCE:
TVGuide