ROBERT PLYLER
Posted July 12, 2008

CHAUTAUQUA - Lovers of theater should get out their calendars and mark them well. The Chautauqua Theater Company has a number of events coming up which you will want to circle in red.

I recently enjoyed dinner at a lakeside restaurant, learning about these events from a beautiful actress. Her name is Vivienne Benesch, and she has performed often at Chautauqua. In recent years, though, she has saved her performances for other stages to work at her position as artistic director of the entire theater program, both the many performances and presentations of the company and the teaching conservatory.
She shares the job with her life partner, Ethan McSweeny, whose directing for the New York City stage has been featured in this column within the past year.
But now, beginning one week from today, she will return to the stage of the Bratton Family Theater in a role she played here more than a decade ago: the leading role in Craig Lucas' play ''Reckless.''

Reckless
Craig Lucas writes as though he believes if you want real life, you can watch the news. Plays are for examining the hearts and minds of people. He prefers to show us characters who don't know themselves, who live the lives Socrates proclaimed as being not worth living. He then introduces a supernatural element which takes his characters out of their downhill coast through life, and makes them think about how they should live and how that compares with how they do live.
''Reckless'' begins on Christmas Eve. Rachel is a suburban housewife, in bed in her comfortable, tastefully furnished bedroom, chattering to her television-watching husband about their two sons and how much she just loves Christmas. Then the sounds of an intruder are heard downstairs and her dependable old husband informs her that, in fact, he has recently hired a professional hit man to remove her from his life. Perhaps she ought to escape through the window.
So, out Rachel goes, into the snow in her nightgown, to a world of situations and people she never dreamed existed.
The role of Rachel is something of a milestone in Benesch's career. ''I came to Chautauqua to study in the conservatory, but I wasn't at all certain that I wanted to make a career of it,'' she remembered. ''I was assigned to perform this role, and it was a lot of work and took a great deal of mental and physical investment, and the reward was so great, it made up my mind, once and for all.''
We talked during a brief break in long days of rehearsal. How does she feel about the role, compared to her first attempt at it? She replied, ''It's been a particular experience of nostalgia, trying new things, and remembering what worked and didn't work before. The good news is that I have a great deal more life experience and a great many more acting tools with which to approach Rachel's big adventure.''
And the bad news? She laughed, ''I'm not as young as I was then, and I get tired sooner.''
How does she feel about the role? ''I like Rachel. In some ways, she reminds me of myself. I talk in short bursts and I get off the subject very easily and move along to a new idea. Ethan laughs that I'm the actress and he's a director, but he talks in complete ideas and full sentences, while I'm all over the place,'' she said.
''At the beginning, Rachel is just content to slide along and do things she has always done. Suddenly, she needs to draw on what she knows and what she can do, and it shows her what she's done right and what she should have done different - what she really needed to prepare herself to do. I love roles like that.'' And what should audience members expect? ''The set is just wonderful. It's the most complex and unusual set we have ever made in our little scene shop. There are Christmas trees flying through the air and all kinds of unexpected elements.''
''Reckless'' will open next Saturday and play through July 27, with afternoon and evening performances.

Every Good Boy ...
The actress lights up with enthusiasm as she reports that on July 24, they will officially celebrate the company's 25th anniversary.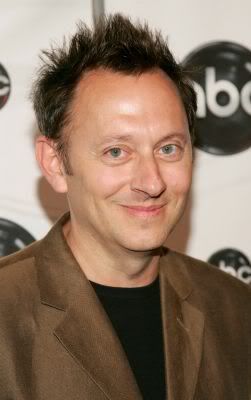 "People who really love theater can make an entire day of it," she said. ''They can pack a lunch and come to a 'Brown Bag' discussion of Tom Stoppard's play, 'Every Good Boy Deserves Favor,' at noon."
Following that will be an afternoon performance of "Reckless," then a joint performance of the company with the Chautauqua Symphony Orchestra in the Amphitheater at 8:15 p.m. And, it all ends with a big block party, put on by the Friends of the Theater.
While they have played parts in segments of performances, this will be the first time the company has given a full-length performance in the 5,000-seat Amphitheater.
Let me tell you a few things I was able to learn about ''Every Good Boy ...''
First, anyone who has ever learned to play the piano was taught that the lines for the right hand, on a sheet of music paper, represent the notes E-G-B-D-F. Chances are excellent that their teachers made them repeat the sentence ''Every Good Boy Deserves Favor,'' of which each first letter spells out the notes to be played.
The play is written for actors and a symphony orchestra. The words are by Stoppard, and the music was created by Andre Previn.
History has made the whole thing sort of a period piece, on its first level of meaning, because it is about the life of a creative person in the Soviet Union, which no longer exists, of course. The play's deeper meanings, of course, are still workable and intact.
The communist Soviets believed their system of belief, in which nobody had a single thing which everyone else didn't have, was moral and good. Therefore, anyone who strived for more or was willing to accept less was a threat to the system, and any idea which supported more or less was also a threat. Threats must be destroyed for the good of the system.
Also, they believed since anyone who disagreed was marked for destruction, anyone who took such a step must be insane, because working harder or creating something, or saving or slacking off, amounted to suicide. A series of camps were built in the freezing wasteland of Siberia, where those people were sent for ''re-education.'' These camps have come to be known by the term ''Gulag,'' an acronym for the Russian equivalent of ''Chief Administration of Corrective Labor Camps.''
By 1956, between 15 and 30 million people died in those camps. That is far more than died in Hitler's camps.
Stoppard presents a play in which a Soviet citizen, accused of being creative, is locked in a cell with a genuinely mentally ill person who shares the same name and same doctor. The cellmate believes he is playing the triangle in a symphony orchestra, which he hears in his head. The CSO will portray the imaginary symphony.
The Soviet system no longer exists, at least not in the same form. But the play remains a cautionary tale, that art and creativity are always in danger, liberty is always one gossamer thread from being lost, and Voltaire's admonition that even if we don't agree with a word someone else says, we must be prepared to fight to the death for his right to say it. That is the ultimate test of a free society.
Fans of the popular television series ''Lost'' will be interested to know that actor Michael Emerson, who portrays Benjamin Linus, one of ''the others,'' will perform the leading role. Ethan McSweeny will direct.
The Lovely Ms. Benesch
Benesch is of Belgian descent. Half of that tiny country speaks French - hence the French-sounding name. She is a graduate of Brown University and New York University's master of fine art program. She also studied at Chautauqua.
''When I was studying here, I was told, more than once, that if I decided to become a professional actor, no one would know what to do with me for 10 years. You see, even when I was 20, I wasn't really a 'twenty-something' type, and character roles are written for older actors. I decided I had the best chance in classical roles, and I did a whole lot of Shakespeare,'' she said.
That decade, as Rosalind in ''The Merchant of Venice'' and the Princess of France in ''Love's Labour's Lost,'' taught her a great deal about directing, and she has done quite a bit of it in recent months.
''I've made a number of decisions which were good, by themselves, but which are now causing me some problems in my career,'' Benesch said. ''I've done a lot of directing, including 'The Seagull' and Shakespeare's 'Richard III.' I appeared in a film. I performed for six months in the London revival of Edward Albee's play 'The Lady from Dubuque,' with Dame Maggie Smith. Just before coming to Chautauqua, I played the title role in Bernard Shaw's 'Major Barbara' at Washington, D.C.'s Shakespeare Theatre, and now I'm away in this green, leafy place,'' she said.
All of those are major accomplishments, but they have taken her name and face away from the theater scene in New York City, and now, when the summer season ends, she has to go back there and begin making the rounds of auditions, almost like a beginner.
Well, not quite like a beginner. Directors might just remember that she won a ''Best Actress'' OBIE award a few years ago for portraying the English eye doctor who finds herself treating the mother of an African dictator, not unlike Idi Amin, in Lee Blessing's play ''Going to St. Ives.'' The Obie is the highest award given for productions presented ''Off-Broadway'' in New York City.
They might remember her in a leading role in the recent revival at the giant American Airlines Theatre on Broadway, of Arthur Miller's autobiographical play ''After the Fall,'' in which she performed opposite television's ''Six Feet Under'' heartthrob Peter Krause.
I could go on listing major roles for the rest of the column, at Lincoln Center, Minneapolis's Guthrie Theatre, the New York Theatre Workshop, the Public Theater, Hartford Stage, American Conservatory Theatre and many, many more. Yet, they say that an actor is only as successful as his or her most recent role.
And if she had her ''druthers,'' what would she like to be doing, come autumn? ''Ideally? I'd like to have a good role in a play, come the evening, and a film role during the day,'' she said.
What effect on her role as artistic director of the Chautauqua Company is played by the fact that she was a student here, herself? She pauses a moment and says, ''Being the head of this company kind of tears us in two directions. We want to give performances which will thrill the crowds and build the hunger of audiences, both inside Chautauqua and in the surrounding area, as well, for good theater.
''We also want to challenge the young actors in the conservatory, and help them build the skills they need to succeed in a very difficult career. No one meets every challenge they face. We could play it safe, give them small roles that don't make them stretch, save money on their teaching.
''Having been on both sides of the line, I know that the teaching part of the job is as important as the putting on of plays. One of the reasons we're able to attract really successful people to come here to perform and to do technical work is that they love working with such talented young actors and getting to teach students who are burning to learn,'' she said. ''Sometimes it tears us in half, but in the end, doing one thing well makes the other go well, also.''
Having dinner with beautiful actresses is a tough job, but as the old saying goes, ''Somebody has to do it.'' I'm just glad it was me.
View Blog
Source:
Observer Today