This episode begins with Sun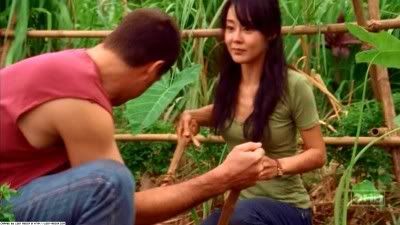 working on her garden. She is approached by Jack, who asks her about her pregnancy. Sun is suspicious of Jack's intentions. Even though he is a doctor, before he was kidnapped, Jack had no such concerns with the castaway's health. He never approached them, they had to approach him. Does Jack know about the fact that pregnant women die on the island? Is he, as Juliet is, working for Ben? I wouldn't put it past that Ben promised Jack that he would get off the island if he cooperated with whatever instructions Ben gave him. As far as I have seen, Jack has been acting suspiciously ever since he helped Ben get better. (
Question:
Why is Jack wearing red shirt lately? Is he next to go? Are the creators playing a joke on us?)She is approached by Jack, who asks her about her pregnancy. Sun is suspicious of Jack's intentions. Even though he is a doctor, before he was kidnapped, Jack had no such concerns with the castaway's health. He never approached them, they had to approach him. Does Jack know about the fact that pregnant women die on the island? Is he, as Juliet is, working for Ben? I wouldn't put it past that Ben promised Jack that he would get off the island if he cooperated with whatever instructions Ben gave him. As far as I have seen, Jack has been acting suspiciously ever since he helped Ben get better.
(Question: Why is Jack wearing red shirt lately? Is he next to go? Are the creators playing a joke on us?)

We are taken to Sun's flashback. She is a newly wed who is approach by a stranger who threatens divulge the secret that Jin's mother was a prostitute. She blackmails Sun to give her $100,000.00 to keep this secret quiet. To make a long story short, Sun finds out where Jin's father lives and visits him. She finds out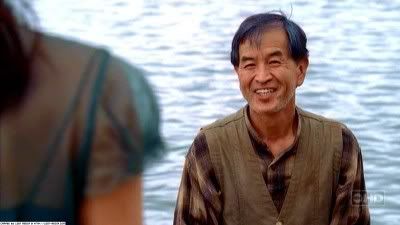 that, indeed, Jin's mother was a prostitute and his father was not even sure that he was the biological father. One thing that I found that Jin, more than likely, except for his shame for having a fisherman for a father, must not have many, if any, father issues. The elderly Kwon seemed to be wise and nice.
At the beach, we encounter Desmond, Hurley, Charlie, and Sun trying to figure out who the woman parachutist is. She moans in Spanish that she is dying and, Hurley, being of Mexican descends understood it. They found that a branch cut into her lungs, and she was slowly dying. Hurley accidentally fires off a flare gun that the parachutist had in her backpack. The flare attracts none other but Mikhail, whom we thought to be dead after his encounter with the security system around Othersville. Desmond has no idea who the man is, but Hurley and Charlie inform him that Kate had told them where Mikhail lived and that he was killed by the security system.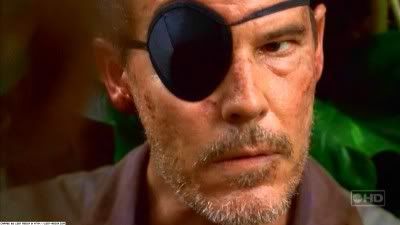 Mikhail, after kung-fu fighting with Jin, promises to fix the injured woman if he is allowed to leave afterwards. The woman starts talking in Italian that she is dying. Mikhail understands her and translates it to Desmond. As far as I could tell, it seemed to me that Mikhail was awaiting the flare gun. Could it be that the parachutist was expected?
Meanwhile, Sun finds out from Juliet that pregnant women on the island die before giving birth. Juliet offers the possibility of some hope. She is to follow her to the medical station. Sun informs Julie that she heard from Claire and Kate that the station was empty. A beautiful way to show the fans that, yes, indeed the castaways do communicate among each other. First, we find such information from Hurley and Charlie and now Sun. There have been complaints that the castaways seem clueless and don't seem to be communicating with each other, as they would have done had the story been real. So, once again, the creators give a nod to the audience. The interactivity among the producers and the fans is just one of the many things that makes me absolutely love this show.
Juliet tells Sun that Kate and Claire did not know where to look. All the furniture that was used to lure Claire was hidden away. Juliet informs Sun that the woman were brought to the station to die. Sun, however, may have hope. If her baby was conceived off the island, she will not die. If the baby was conceive on the island… that bridge would be crossed when needed.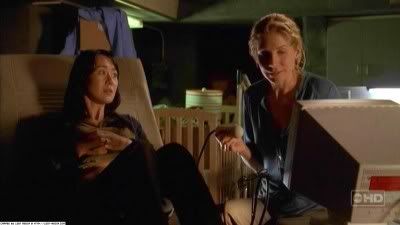 Sun was sure that the baby was conceived off the island, as Jin was declared to be sterile. Juliet, unfortunately, informed her that the sperm count of males on the island was five times that of males off the island. Jin may not bee infertile.
We are given some more hints regarding the powers of the island. Mikhail's uniform is caked with dried-up blood. He was badly injured by the security system. Now, we don't know whether he did indeed die. No one checked his pulse when the security system perforated his ears. My hunch tells me that he was injured, but he healed.
In fact, after Mikhail saved the parachutist life, he did tell them that she would heal in one day. Charlie was stunned at the news, but Mikhail told him that "On this island, the rules are a bit different."
While Mikhail was removing blood from the parachutist lungs, she whispered in Portuguese that she was not alone. Mikhail translated it that she had thanked him. Now why would she divulge this secret? Did she want to warn Mikhail? Did she give some vital information to Mikhail to take to the Others?
Meanwhile during Sun's flashback, we find out that Jin was just a simple floor manager in her father's company. However, because she asked her father for the $100,000.00 she needed for the blackmail money, he decided that from then on, Jin was to work for him. In essence, it was Sun's desire to protect Jin that caused the rift in her marriage. Either way, she was damned if she did; and damned if she didn't.
Juliet informed Sun that she conceived on the island. She was doomed to die. Although Sun was happy that the baby was Sun's, ironically he would never be a father. Sun would more than likely die before the second trimester of her pregnancy ended.
Although, Juliet seemed genuinely concerned for Sun. She seemed to be on Sun's side. However, when Sun was not looking, Juliet sends a tape-recorded message to Ben regarding Sun's pregnancy. She informed him that more information will be forthcoming about the other women on the island, especially Kate Austen. Juliet does whisper after she turns the tape recorder off that she hates him, nonetheless, at this time, it is hard to decide whose side Juliet is on—probably on her own side. She wants to be off the island so badly, that she will do anything at all. Is that what Jack is doing as well? Only time will tell.
Had not the title of the previous episode been "Catch 22," it could have been used for this one. Sun, as Desmond, faced a catch-22 situation. She is damned if Jin is the father of the child, and she is damned if the father of child is not Jin. She would have been damned if she didn't give the money to the blackmailer; and she was damned for giving the money to Jin's mother.
I could end my recap here, but I would cheat my readers of one of the best ending lines so far. While the parachutist was recuperating, Hurley informed her that he was a survivor of Oceanic flight 815 from Sydney to Los Angeles. "Not p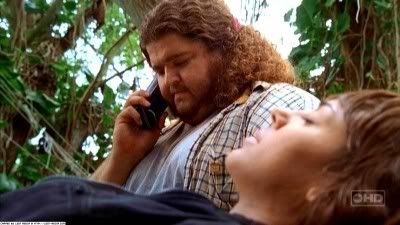 ossible," she said, "They found the plane; there were no survivors." To this Hurley says, "What?" He was so stunned that he didn't even say "Dude."
So how can we account for her statement? Well there are a few possibilities. One possibility might be that LOST may be dealing with different parallel time lines. I would like to interject my theory.
Flight 815 was not supposed to have crashed on the island, but it was not supposed have reached its destination either. According to the pilot, just before the smoke monster killed him, the plane was 1,000 miles off course. They were not on the way to Los Angeles. Unfortunately, Desmond did not press the button on time. The plane was drawn into the island by its magnetic field. The fake crash was already set up for the press. Whether I am right or wrong, we won't know for a few weeks or months. We shall see.
Next week's episode is "The Brig," a Lockecentric episode.
Addendum:

My crackpot theory
The killer of the babies and mothers is not the island, but the supercharged sperms that the men on the island produce. Because Jin was sterile, Sun is safe. Jin's sperm became of normal count. Sawyer, however, is now supercharged and his sperm may kill Kate. Now, there is a another possibility to this theory that would save Kate. The women on the island had older uteri. Maybe Kate, being younger is still safe.